Jason and his wife, Amy, called this 1980 Tudor Revival home back in 2020. "As we looked in many other places in Idaho and then later specifically in Idaho Falls, almost all of the new construction homes were the same boring 'open concept' design." Jason states. "We decided we wanted something very unique and something with a whole lot of history!"
Curbside Ready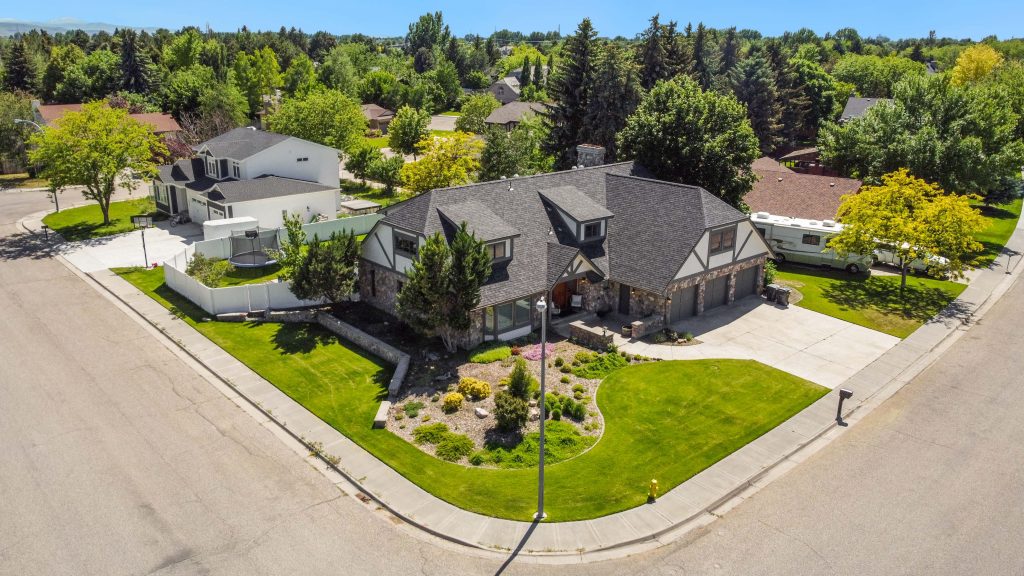 1750 Coronado Street has everything you could ever wish for when it comes to curb appeal; established yard and shrubbery, mature trees, courtyard, grand entry, charming exterior design, and it doesn't hurt it's perfectly placed on a coveted corner lot! Tudor homes are built with gorgeous noble materials that can even rival modern goods, but as you know that can all stop when it comes to the wear and tear of your roof. The good news is his home's roof was replaced only a few years ago in 2019 (so scratch that off your to-do list)! Delving beyond just the curb appeal, the location really solidified it all for Jason and Amy. "In this home you feel as if the city is nowhere near you but in only minutes of walking or driving you are greeted with shopping, hiking, golf, and the best entertainment the Idaho Falls area has to offer. Not to mention being surrounded by the best neighbors who will quickly become like family."
It's What's on the Inside That Counts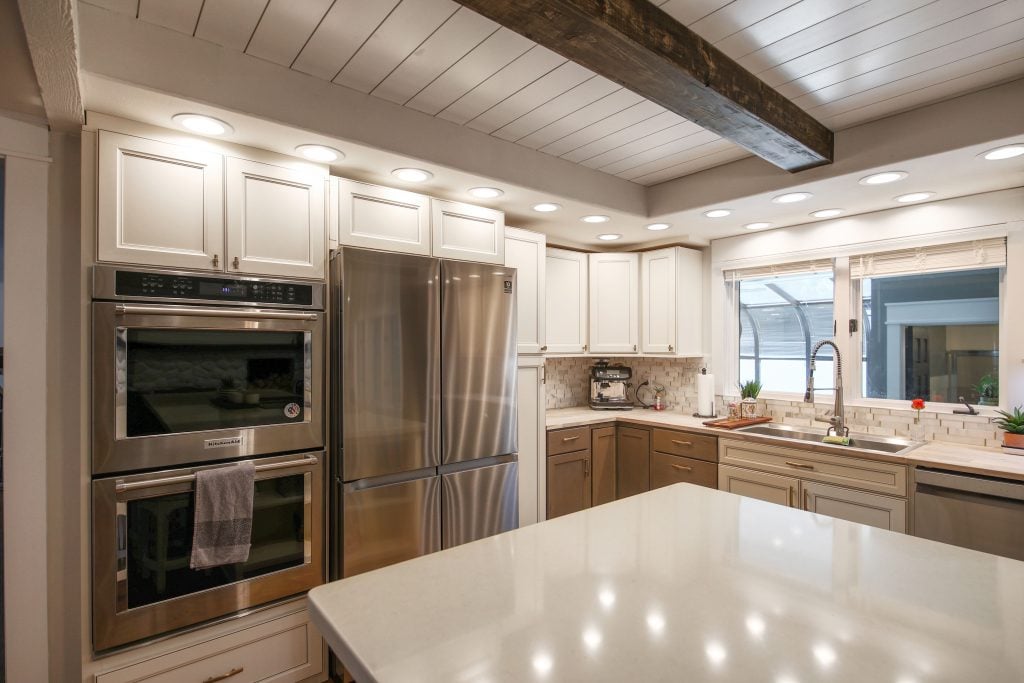 If the double entry, exquisite flat panel wainscoting accent walls, solid hardwood floors and professionally painted hardwood doors don't make you gasp, then wait till you see the rest of the home! "Be prepared to be overwhelmed with the exciting feeling of dreaming about the endless possibilities you'll have as you go room to room!" Amy says. Most notably the heart of any home, the kitchen, which is an entertainer's dream; wood beams, shiplap ceiling, updated cabinets, updated granite countertops, walk-in pantry, updated lighting, double oven, and on and on! Oozing over from the kitchen is a retro-mod sitting area with a fireplace that is an absolute show-stopper. We'd be crazy not to mention the lavish upstairs with its newly installed 80 oz. carpeting with an 8 lb. pad, a plethora of bedrooms and bathrooms, and an insanely large family room. The crown jewel of the upstairs is the master bedroom! Spacious, beaming with natural lighting, and even comes complete with his and her closets (a girl's dream – you're welcome). See additional interior photos by clicking here.
Treat Yo' Self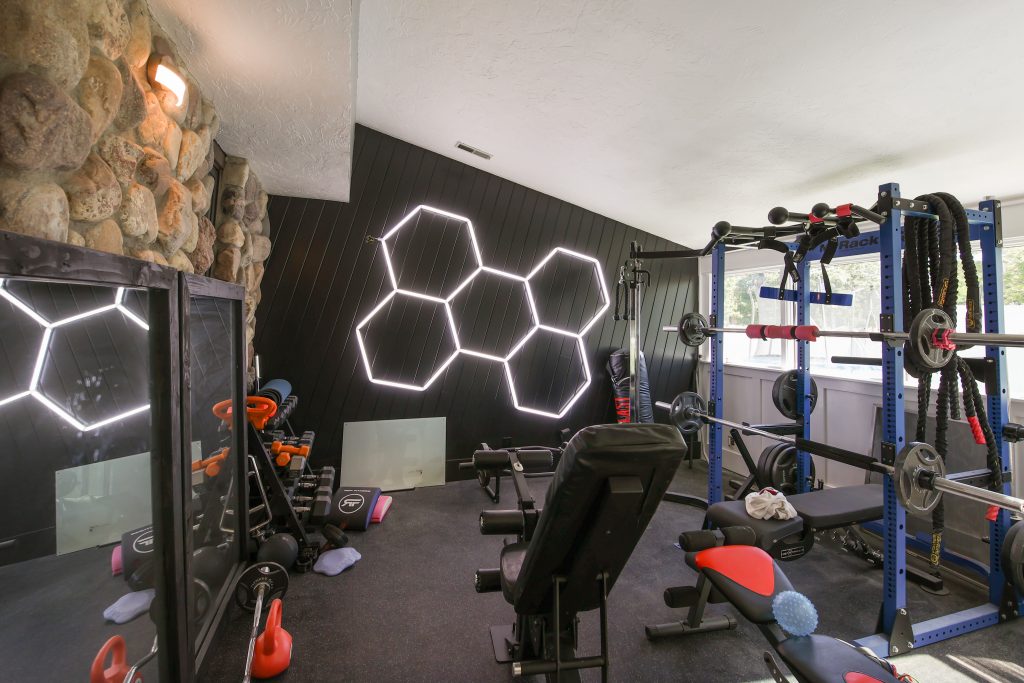 Located on the backside of the house is where the self-care opportunities begin within this home's gym, solarium, and sauna. "The gym is part of our morning routine! We absolutely love waking up and hitting the gym, starting our day off right" Jason and Amy share. "The solarium has become somewhat of a sanctuary for all of us. Even on a dreary day you can relax and bask in a good book." Amy adds. Each room is sun-drenched and exudes the positive energy needed to kickoff any day indeed. Escape from here to the lavish fenced-in backyard. Whether you're flipping homemade burgers on your built-in outdoor kitchen, spending quiet time in the garden area's gazebo, or watching your kids create memories, you'll have to pinch yourself that this is all real-life!
Remote Ready!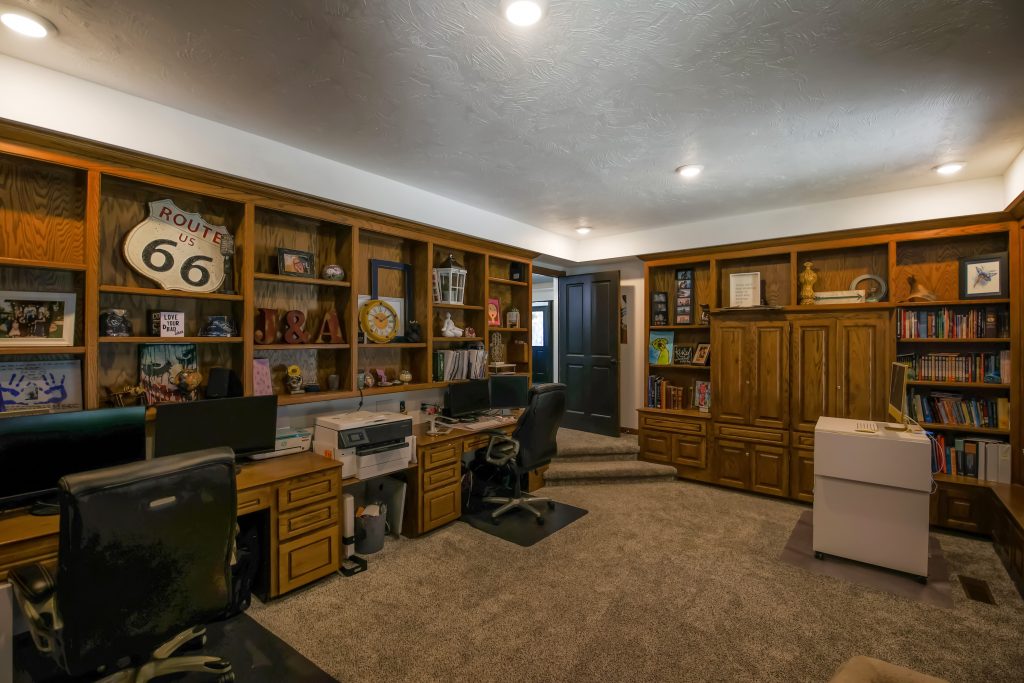 There's zero problems working remotely here! This home's den offers solitude and peace from the rest of the rooms. Each solid oak door in this home is over 1" thick and each of the joint walls are insulated the right way – ensuring you are uninterrupted during those Zoom calls. When you work from home you also need high-speed internet, and the fastest is at your fingertips! Get a closer look at this den/office area by taking the 3D virtual tour! Click here.
When we wrapped up our interview with Jason and Amy, Jason ended with this, "We can't wait for the new owner's to feel the same pride in ownership as we feel. This home will take care of them as it has for our family in addition to having the satisfaction that because the house is completely updated… there's only one thing left to do – enjoy it! Welcome home."