We have certainly had an interesting winter here in Southeastern Idaho. In the beginning we had a late arrival, of not so much snow, to now what people are calling the best snow we have seen in a decade. From the ski slopes, to snow machine trails, and the roads between, we're back with another snow report to give you the hot tips on where to get your fix of white fluffy powder before we are looking at winter in the rear-view!
Grand Targhee Resort
Grand Targhee is open at full capacity, sitting at 113" base, and with fickle weather coming up, we should see some warmer days, clouds, and snow in the forecast throughout the weekend. Now is a great time to get up and earn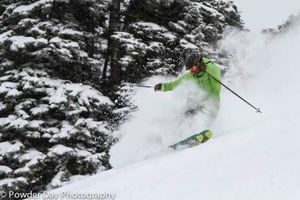 your turns! At just over 60 miles from Rigby, this is an easy hill to get to for some all day, or just afternoon fun. All of this snow brings tons of opportunity – but it's good to always remember to practice good safety and obey all ski boundaries, after all, it's only fun until someone gets hurt. Stay up to date with mountain conditions here!
Kelly Canyon Ski Resort
As we round the bases into spring, winter still wants to play ball. With fresh snow continuing to present itself almost nightly, and it's close proximity to Rigby, Kelly Canyon is a hot local spot to go to for a fun day on the slopes. They also have night ski with illuminated runs, making afternoon or evening tripsa breeze! With 6" of fresh snow in the past few days, and more in the forecast this week, so text your friends and family, get your gear prepped, and get ready for some killer runs up at Kelly! Be sure the check out their website for up to date conditions and mountain information.
Our Mountain Passes & Roadways
While we have had a great winter,currently most of our passes are not experiencing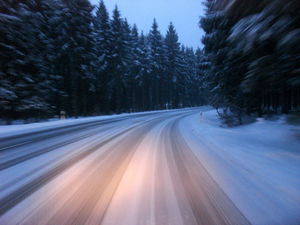 treacherous conditions. However it's always good to be aware of road conditions when traveling in winter conditions, as we all know up in the mountains conditions can change quickly so it's always good to be prepared. Traveling at safe speeds, having winter tires and carrying chains is a good idea, and always before leaving a trip check local road conditions on the Idaho Transportation Department. I also like to always have a backup route to take should my main route be too dangerous or congested from bad weather to get to my destination. 
Driggs Snowmobiling
The snow out in the Driggs area is incredible right now. Each trip my friends return from is better than the last and they cannot wait to get back out for more. The talk of the town is that you do not want to miss out on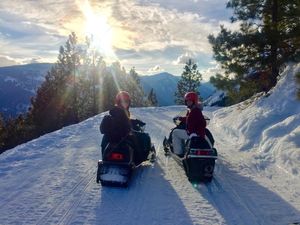 what some are calling the best riding in years! Some of the best riding that maybe was not available earlier in the season due to lack of snow, is now laughing at that thought and taunting you to come rip it apart! If you are new to the sport or have been riding for years, a great company to consider for a snowmobile tour is Teton Valley Adventures. They have tours for beginners which stay on trail and show you amazing scenery, up to expert level guiding that takes you off trail into the deep and steep powder.
Winter Safety
This winter has been kind to us, there is no doubt about that. Although winter may be dying down we have had some great snowfall, with that comes dangerous conditions both in traveling and in winter sports. This year we have had a few avalanches on Mt. Jefferson that unfortunately resulted in deaths. Sometimes these cannot be avoided, but it is good to have proper to have the right gear, training in what to look for to determine safe riding areas, as well as what to do in case you find yourself in a situation where you need to know how to survive in winter conditions.