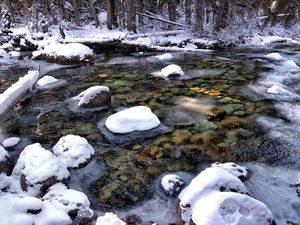 All this cold weather we have been having, really isn't much fun without some snow, right? Once the temperature starts dropping, and the days get shorter, the more and more I think about snow, and everything it entails. If you're at all like me, you're itching to get out and play with your snowboard, skis, or snow-machine in fluffy white snow. Although our winter is off to a fairly slow start, below I've outlined a number of places not too far from Idaho Falls that you can go to get your fix now!
Grand Targhee Resort
At just over 80 miles away, Grand Targhee Resort is the current closest option for skiing and snowboarding. They are running at full service, with every lift, and trail open, they are ready for you to come pay them a visit. Since it is nearly 1,000' higher in elevation that near by Kelly Canyon, GTR is usually one of my first go to's of the season since most of the time I cannot wait for Kelly to get snow! With 6" of fresh powder in the last 24hrs, and conditions looking great for the rest of the week, I highly suggest you hit the slopes instead of the office one day this week to enjoy some powdery turns. Perks of going on the weekdays include less crowded runs, and shorter lift lines. Look here to find info on current conditions and to find out which chairs and trails are operating each day. 
Jackson Hole Mountain Resort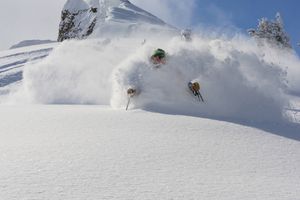 Even though they are not operating at 100%, they have over half of their lifts open and groomers ready for you to come earn your turns! This resort is not world renowned for no reason. Jackson Hole earns it's spot at the top of nearly every skier and snowboarder's bucket lists, with legends of the deepest, driest, most powdery snow in the US, some will say, in the world. We are fortunate to have it just a short quick 90 miles from us, which is why I take advantage full advantage of this incredible resort. Stay up to date with mountain conditions so you can cut out of work at the perfect time to get optimal snow. With 8" in the last 24hrs, and clear sunny skies for the rest of the week, now seems like the perfect time to "call in sick" and go get some sick turns at Jackson!
Our Mountain Passes & Roadway
If you have lived in the area long, you know our roadways are nothing to joke about or take lightly as winter sets in. It's always good to be aware of road conditions wherever you may be traveling, as many of the wonderful winter activities we have around here, require you travel some dangerous stretches of road, which can be no problem if the right precautions are taken. Here are a few notable advisories: WY 22, and US 26 are listed as being slick with snowfall, so carry chains and drive at appropriate speeds. WY22 is closed to trailer traffic between Wilson & the Idaho State Line due to falling rocks. The US 26/89 are on advisor of falling rocks, as well as blowing snow between Alpine & Hoback Jct. All in all, Idaho Transportation Department, as well as WY DOT, are listing our mountain roadways as highly dangerous and to use extreme caution when traveling. You can find additional information roadway information here, be sure to check conditions prior to starting your adventure.
Island Park Snowmobiling
Although Island Park still needs a few good snows to be considered open for the season, this is a good time to get your snow machines prepped, gear ready, and your friends on speed dial. Can't wait to dust off your sled? Well, for the more skilled riders, and brave of heart, word on the trails are that The Black Canyon Trail is hiding some ride able snow, it may be hard to get to with the trails leading there lacking much white stuff, however in my eyes, good things are worth working for! Be sure to keep your eyes out for exposed rocks riding in the early season, it would be a tragedy to wreck your sled before the good snow arrives! Stay up to date with conditions on High Mountain Adventures site, they are really good at posting daily updates keeping our local riders in the know!
Winter Safety
Yes, all of these activities we love are tons of fun, and what we look forward to every winter, it is good to remember as winter goes on, be it the beginning, middle or end, always keep safety near the top of your mind. There are clear, and hidden dangers in all winter activities, and mother nature is no one to turn your back on. Always have a plan, let a family member, or friend know your full plan, including location, departure and return time. Know your travel routes and make sure your vehicle is equipped with proper winter gear. Always make sure you have proper gear, food, and water with you when out on the slopes, trails, or just traveling our roadways for the holidays. Last but certainly not least, make sure you are ready to have a blast and make memories that will last!