Despite having an incredible year with a 17-9 record, Rigby's season came to an end on Friday in a battle against the Lake City Timberwolves. The team fought hard every second out on the court, but the Timberwolves were able to make a few more buckets and pull away with the victory in the second half.
Although seeing any season come to an end is sad, we feel this is a bright glimpse into Rigby's future. Because of the growth in demand for Rigby Real Estate, our school district has recently made the leap into the 5A bracket. I think this basketball season Rigby is proving they can hang with anyone, and even give the best schools a run for their money! These are exciting times for Rigby High School!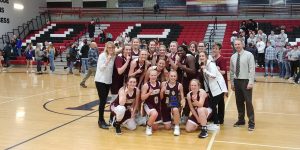 Cheers, ladies – to an incredible season!