Rigby Bull Wars 2021 Recap
In the aftermath of both the Covid-19 pandemic and the Rigby Middle School shooting on May 6th, our small but mighty community gathered together for the first time to watch the Bull Wars. Located at the Rigby Rodeo Grounds, there was food, crafts, drinks, laughs, and celebrations all around.
The Craft Fair before the rodeo was a blast. There was jewelry, clothing items, handmade goods, freeze dried candy, and more to peruse. Some of our Dakri Bernard Realty Group team really enjoyed the taco truck, you can never go wrong with a good taco!
As the rodeo start time approached, we watched as the stands slowly filled to full capacity. We were packed in so much so that the ticket booth had to turn people away! There were people standing around the gates because there were no seats left. It was a breath of fresh air after the year and a half of no large events.
The veterans rode out and the national anthem was sung, and thus the Rigby Bull Wars were in full swing! There was bull riding, children's games, smells and flavors of fair food, and chatter amongst the stands. It was a beautiful night with a cool breeze as the sun went down.
After the main bull riding came the American Freestyle Bullfighting. Bullfighting is a physical sport that consists of a bullfighter attempting to score the 100 possible points, 50 from their performance, and 50 from the bull. An example of a great fight is 88 to 90 points. Bullfighters can score by exhibiting control over the bull, performing tricks, and avoiding getting hooked, jumping on the fence, and running from the bull. The bull earns points based on speed, aggression, engagement, and difficulty.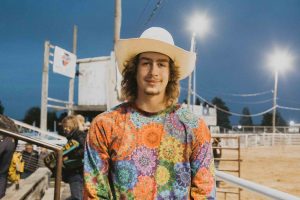 We had the pleasure of chatting with third place winner of the Freestyle Bullfighting competition Kelson Guenther, who traveled all the way from Missouri to compete!
DBRG: What made you want to be a professional freestyle bullfighter?
Kelson: "I grew up watching bull riding and rodeos and my favorite part has always been the bullfighters. When I turned 16 I finally got the opportunity to fulfill my dreams."
DBRG: How did you become a bullfighter?
Kelson: "After about four months of strictly cowboy protection, I got asked if I wanted to enter a freestyle in Central City, Nebraska. I ended up winning it and immediately fell in love and have kept at it to get me where I am today."
DBRG: What does a typical day look like when you're competing in a fight?
Kelson: "On a typical day of an event I try to get to the arena early to help sort stock or work bulls to keep my nerves down before I fight. About 30 minutes before the event I start my warmup routine and go through stretches and moves to get my muscles moving."
DBRG: What advice do you have for someone wanting to go into this sport?
Kelson: "If you are wanting to get into the sport, find a local practice pen and don't be afraid to ask questions. If you end up liking it, find a reputable school such as Sankeys or the UPF Toro Tune Up camps."
DBRG: What do you enjoy most about bullfighting?
Kelson: "Personally my favorite aspects of the sport are the bonds you form with fellow bullfighters and the people and places you get to see and meet."
DBRG: What goals do you have in your fighting career?
Kelson: "Ultimately my all-time goal would be to win a UBF world title and to fight at the Nationals Final Rodeo."
DBRG: How can we stay up to date on your latest standings?
Kelson: "You can keep up to date on my Instagram @kelson_guenther."
For more East Idaho event and business spotlight blogs, and all things local real estate, follow Dakri Bernard Realty Group on Facebook and Instagram!