Volunteer Opportunities in Idaho Falls
As the holidays approach, I am reminded why it is my favorite time of year. Snow is starting to collect on the mountains and in the fields, being surrounded by family, good meals, and home baked treats. These are the feelings I wish would last forever! However with these feelings, always come the thoughts of the less fortunate, and I love to do my part every year to give back. We have compiled a list of available options  to volunteer, donate, and give back to our wonderful community.
Also, check out the recent blog post about our "Closings that Count" donation program that enables us to give back year round!
Community Food Basket Idaho Falls
Community Food Basket in Idaho Falls has blossomed into quite the food bank over the years. They are trying new things, and succeeding in feeding hungry families across Southeast Idaho, and beyond. Feeding nearly 1,000 families each month, they always welcome volunteers!  Even if you cannot make it down to physically volunteer, there are other ways to donate. They have a virtual grocery store on their website, that allows you to add items to your shopping cart and checkout. CFBIF will then take your money, purchase the items, and put them into their inventory so they can distribute them to families in need. They have products like food and household items, and even school supplies! All of the ways to donate or volunteer are listed here. They are really staying on top of finding new ways to give, and changing what you think of when you hear "food bank". 
The Soup Kitchen
This is a great organization and a truly a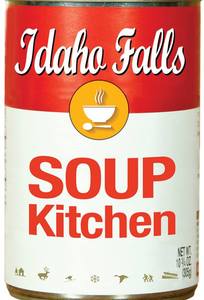 special place. Everyone is welcome here. Food deficiency is a sensitive topic, so the open, no questions asked environment they offer is wonderful, and it's amazing to partake in. The Soup Kitchen opened its doors in 1985, and grew from 2 days a week, to now 7 days a week, and nearly 55,000 meals a year! That certainly says something about the amazing community we live in, being that they operate solely on donations and volunteers. They have a large network of 31 teams of volunteers who put in the hours each week to make this happen. Unfortunately, their teams are full, but it's best if you give their Facebook page a follow so you can be notified when a spot on one of their teams opens up. Other ways to help are to organize your own food drive, fundraiser, or give them a call and see when they might need help sorting, and stocking food. Keep in mind, even if you are not directly serving meals to the less fortunate, there are many critical parts that help an organization thrive. This is easily another one of my Idaho Falls favorites!
Grand Teton Council Boy Scouts of America
Growing up I was a part of the Boy Scouts of America, and I can remember each year around the holidays being filled with fundraisers. Canned food drives, clothing and toy drives, Christmas tree recycling, and even just volunteering time at local senior living centers. I would attribute much of the way I am today about volunteering and giving back to the community to my time spent in Boy Scouts growing up. I have heard nothing short of amazing things about our local Grand Teton Boy Scouts of America program, and if you do have a little tike, I highly suggest doing some research on possibly enrolling them into Boy Scouts. Among giving back and volunteering, you get to learn tons of valuable information, and go on lots of fun trips!
My Challenge To You
I truly hope in reading my post I have inspired you to research ways to give back this holiday season. I strongly feel the holidays don't feel quite like the holidays without doing my part to give back by donating, or volunteering. Although I do try to emphasize on this around the holidays, this is something we can all do, year round. What my challenge to you is, this week to go through your closet, your husbands, childrens, heck go through that hallway closet that has been stacking winter jackets since 2005 (yeah you know what I'm talking about, that one where the vacuum cleaner hides out). Empty it out, see what you absolutely need, and see what you could donate to a less fortunate family. I guarantee you that if you do this a few times a year, you will drastically reduce the clutter in your house, and create happiness within others hearts.