Take a minute to get to know our agent Melissa Bernard. Melissa answers some classic (and not so classic) questions to help you understand her as a busy mom, owner of multiple businesses, outdoor enthusiast, and the day to day operations of one of the fastest growing real estate groups in Eastern Idaho.
Q: Where were you born?
Melissa: I was born in California, but my parents moved to Idaho when I was a young kid – I consider myself an Idahoan and love it here!
Q: Any kids?
Melissa: Yes – three!
An amazing first-born daughter Dakri who is not only beautiful, but the master-mind of an incredibly successful real estate company & one who continues to set the bar high.  Chic, professional, smart, savy, ambitious, and down-home country when need be!
Our second born, an equally amazing son Dalin who is the master of his own destiny, a world traveler, and to keep the adjectives equal, an incredibly successful digital marketing entrepreneur.  Charismatic, gregarious, intuitive, driven & competitive!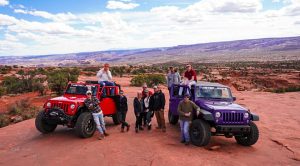 Our third and final was a late-comer to the family – Dawson.  He is currently in high school and for a young man his age – has great role models as siblings and an amazing stead-fast brother in-law Broc to look up to.  Dawson's story is yet to be written.  Intelligent, handsome, charming, funny & witty!
I've been blessed beyond measure – our kids have out-performed their pedigree and I couldn't be prouder! Ha!
Q: Most memorable childhood vacation?
Melissa: I don't have a single favorite – all my childhood memories are of laughter and dirt between my toes and wind in my hair.  I recall all those years ago my mother & father's (May & Ken) dedication to spending time with their family in the mountains camping, hunting and fishing.  We didn't have much money but we were rich in nature and I didn't miss a thing.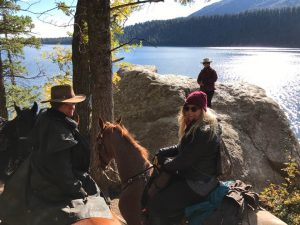 Q: Favorite part of SE Idaho?
Melissa: The majestic mountains of this beautiful state!  In any direction I can travel an hour or so and be on the back of my horse and exploring hidden lakes, hot springs, crystal clear rivers and streams, and snow-capped peaks.  The Idaho mountains are my happy place…
Q: Favorite outdoor activity?
Melissa: Horse-back riding, kayaking, cycling, camping and white-water rafting.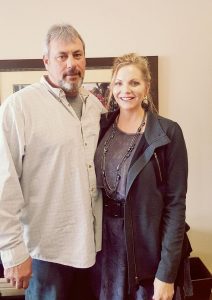 Q: How did you get into real estate?
Melissa: I married my husband Jim 34 years ago and he inspired me to think outside the box and push the envelope and chase my (our) dreams.  As a land-developer and contractor, for most of these 34 years, real estate must be in my DNA.  I finally decided to jump all in and haven't looked back.  I absolutely love people and it fills my cup to match clients with a home to call their own.  A demanding but equally rewarding profession…
Q: Most memorable experience working with Dakri (& Team) so far?
Melissa: When I helped a young family and first-time home buyers get into their dream home.  I will never forget the look on that young mother's face with a precious new baby on her hip.  We were standing in her kitchen and I hugged her and said, "call me anytime if you ever need anything."  She was giddy and smiling and her baby was doing the same, and she said to me, "it's really happened, you are walking out the door this time but I'm staying – this is my home!" It brings a smile to my face remembering it now, she was so genuinely happy and excited – my smile lasted for days…
Q: Your phone rings at 2 AM, it's Dakri, why is she calling?
Melissa: The horses might be out!  She might need help for Broc if he is irrigating the hay field – a headgate has blown or the pastures are flooding or she may have come up with a new marketing idea that she wants to share! lol
Q: One thing potential home buyers need to know?
Melissa: Not all real estate agents are created equal.  A commitment to making every client a priority and a strong work ethic are keys to a successful transaction.  There are a million details that go on behind the scenes – if your agent makes it look easy and they enjoy it – then keep them for a lifetime!
Q: You meet up with clients, get in your car and music is blasting from your last ride. What song is playing?
Melissa:  That is anybody's guess – it might be a blast from the past – John Prine or the Subdudes or Steve Winwood, April Wine, John Fogerty, Elton John, or Eric Church – today's top hits to rock classics – I love them all.
Q: Why should those considering buying/selling consider using you and the team?
Melissa: Our record speaks for itself.  Our Captain of the ship, Dakri is highly motivated and driven to be the best in the business.  Over and over again, she and our team excel at the top of the charts with limited individuals as compared to the larger teams triple our size.  Our strong work ethic and dedication to our client's needs and timeliness in which we respond sets us apart and will continue to be the driving force.  We love our clients and they love us!
Q: You win the lottery – First person you call and why?
Melissa: I call Jim – he is the one I turn to – my soul-mate in this beautiful wild ride of life.
Q: If I wasn't in Idaho, I would live in:
Melissa: Though I have a wanderlust to travel and continue to see the world – I plan to always have a home in Idaho – it is an amazing place and I believe it's residents will always fight to keep the wild places wild and scenic areas that are too beautiful to describe protected from privatization.  Come to Idaho – get the monkey off your back, take a deep breath – and drink from the hose!