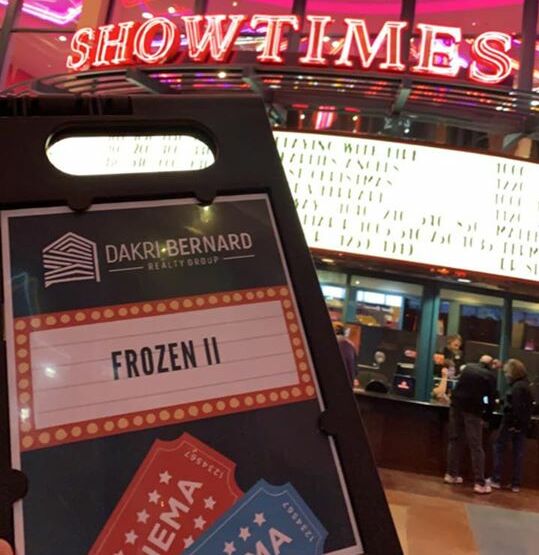 I want to start off first by saying, wow, we have a truly incredible clientele! We are always so excited by the amazing people we get to work with, and because of that, we love any opportunity we get to give back to them! This Years Dakri Bernard Realty Group (DBRG) Loyalty Event was one for the books.
With Disney's Frozen Two release quickly approaching, we jumped on the opportunity to host a premiere party for our wonderful clients. After reaching out to the fantastic team at Edwards Theater, we secured an entire theater for the showing. Thinking that 180 tickets would be enough, we released them to our clients. Little did we know the tickets would sell out in less than six hours! We were blown away by the high demand to attend this event and quickly reserved the next largest theater so that even more people could be in attendance!
On the night of the premiere, the line was out the door well before the movie was scheduled to start. As people entered the theater to get their seats, they were met by Elsa, Anna, and Olaf! Every attendee got to take complimentary pictures with their favorite Frozen stars, and receive free DBRG Swag. Every person in attendance also had the opportunity to enter into our giveaway for a free 55″ Inch 4k TV!
And of course, Frozen Two was fantastic! A perfect movie for the kids, but also with great jokes and references to keep us adults entertained.
We can't wait for the next DBRG Loyalty Event! If you weren't able to make it to this one, we look forward to seeing you at the next. If you aren't a DBRG client yet, we would love to meet with you to assist in the buying or selling process.
Finally, a huge shout out to our awesome team. We couldn't have done this without each and every one of you helping to create such an amazing event.
Dakri, Melissa, Anjanette and Team