This article is from our latest Keeping It Real Estate Magazine: No. 2 – Inspiration.
Decorating can be a daunting task, so we did the hard work for you! We've compiled a team of local vendors to make your dining table POP. With the help of Floral Classics, SaraCakes and CupCakes, and Real Deals, you have all the tools you need to be the host of your dreams! We styled this table for Easter, but these expert vendors know how to style any occasion.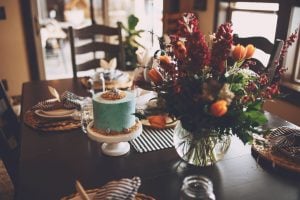 Floral Classics is our go-to for any floral need. Melissa has sworn by their arrangements for years! Located on Main Street in Rigby, Floral Classics put together a wonderful bouquet for us, using spring-themed flowers like tulips. When we picked the bouquet up, the tulips had yet to open, so throughout the day we got to enjoy checking in on them and seeing them come to life! Of course, the scent was the perfect touch to our display.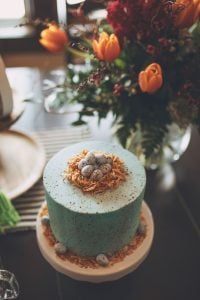 SaraCakes and CupCakes is a talented artist in the baking and decorating industry. She made us a beautiful robin's egg-inspired cake. Complete with egg speckles and roasted coconut to look like a nest, the cake was beautiful and delicious! Sara told us that she's inspired by nature, and everything it has to offer, so it was the perfect match!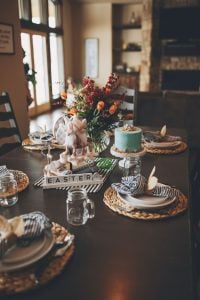 Dakri is a big fan of Real Deals, so when we started thinking about decorations she knew exactly who to call! We worked with Debbie from the Idaho Falls store, and we had so much fun arranging the wooden eggs, tiered stand, easter bunny gnomes, and the scrabble tile sign that she gave us. Adding a little home decor to your table is the best way to take it to the next level!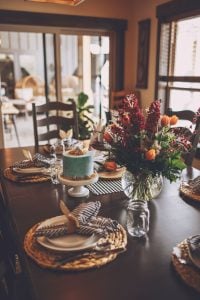 We'd also like to thank Art of Brio photography for taking these photos for us. She's one of Dakri's favorite photographers, and she made the photo experience both comfortable and fun! Not only does she do a great job, she's great company to have around, too!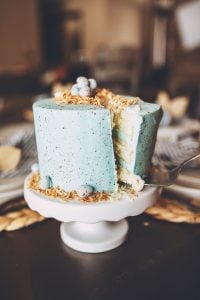 If you'd like to receive our quarterly magazine, full of articles and happenings like this – message us on social media, we'll leave our handles at the end of this post. Thanks for reading another DBRG blog post, check out our social media for more!
Instagram – @youridahoagents
Facebook – Dakri Bernard Realty Group or @dakri