A quick list of upcoming outdoor options in Idaho!
Activities in Idaho are generally pictured as spring and summer time adventures. Warm weather, sun shining and smiles. However, residents of Idaho know that fun can be had year-round. Here is our list of 5 winter activities in Southeast Idaho to keep you and your family enjoying the outdoors when the temperature drops and white flakes begin to fall.
Fish & Fly Fishing the South Fork of the Snake River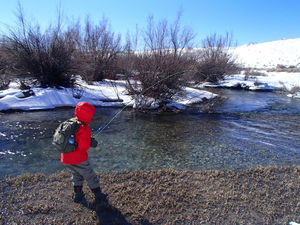 In the early weeks of winter, one of the better places to fish in the area is on the South Fork of the Snake River. Now that the water levels are returning to a normal flow, it allows anglers to wade in and get into some really fun target fishing. Browns are beginning to spawn this time of year, and with the water temperature dropping, they will be getting out of faster moving water to conserve energy for their spawn. Streamer fishing, as well as a myriad of fall and winter pattern flies are bringing in success. Make sure you head to Jimmy's All Seasons Angler in Idaho Falls for all your fishing gear, flies and local knowledge!
Snowmobiling in Swan Valley
With rumors of another La Niña, we are expecting agreat winter and you can bet there will snow machines ripping up and down trails all over Southeast Idaho! One of our favorite places to ride is in the Swan Valley and Alpine areas. Here you can find hundreds of miles of amazing, maintained and groomed trails, as well as untouched terrain awaiting your sled to be the first to blaze the way! From first timers, to expert riders, there are trails for every skill level. If you don't have gear, or s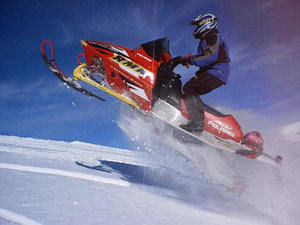 imply don't want to haul it, there are many companies in the area that offer gear, snowmobile rentals, and guided tours. Get out and see our state in a way you've never imagined; winter wildlife, vast open fields of untouched snow, and breathtaking views are only a few of what lies before you. Make sure to keep an eye on weather conditions and let someone know where you are going and when you expect to return. Most of all, enjoy!
Skiing & Snowboarding at Grand Targhee or Kelly Canyon
Nothing beats a morning on the slopes. There's just something about breathing in the crisp mountain air and the sound of wind rushing by as you carve down the hill, while getting covered in clouds of powder! There are many places nearby to satisfy that craving, some of the closer ones include Kelly Canyon Ski Resort, and Grand Targhee. Both of these resorts host a good variety of terrain, as well as a few terrain parks, with rails and jumps for t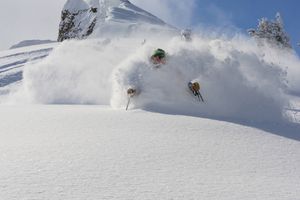 he brave of heart. If you're willing to drive 1-2 hours, you can be at the world renowned Jackson Hole Mountain Resort. People travel here from all over the world just to get a few turns down the legendary slopes, known for its steep terrain and deep powder. We usually end up going to all three resorts throughout the winter, but our favorite has to be Kelly Canyon because of proximity and the price of their season passes, it makes it easy for the whole family to enjoy all winter!
Outdoor Ice Skating in Rigby
One of our favorite family activities to do around the holidays has to be outdoor ice skating at Squealers Fun Park! Although there are many fun activities at Squealers, grabbing some rental skates and trying not to fall as we make our way around the ice rink really makes for a great afternoon full of laughter and smiles, not to forget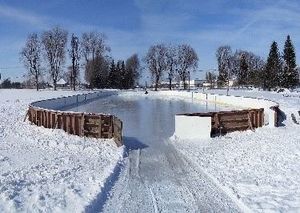 to mention my favorite part which is getting a cup of hot chocolate before we hit the road. At just $5 per person, and $1 rentals you really cannot beat the value with this one!
Heise Hot Springs
After a long day in the snow, whether it be one of the activities above, or just building snowmen out in the yard with the kids, it is always a treat to bring the family to Heise Hot Springs in Ririe, Idaho. There you can soak in the pools fed by natural mineral hot springs. It hard to beat the peacefulness of float in the warm water as snow is falling around you. They also have a smaller, shallower pool for the kids to enjoy which is kept at a comfortable 92 degrees, as opposed to the toasty 104 degrees the larger pool is kept at. There is a snack bar there with both hot and cold snacks, as well as the Heise Pizza Parlor just a few blocks away. Swimming always works up an appetite and we usually love stop by for pi
zza on our way home.
I hope I was able to shed some light on a few of the many fun winter activities we have here in Southeast Idaho. The negative aspects of weather sure don't outweigh the positive ones!
This is only a portion of the current options to get outdoors in the winter months. We would love for you to help us add to this list. What did we miss? Tell us in the comments!